National Geographic asked 5W Infographics to update its 50 Years of Exploration graphic, a classic that I use often in my talks to illustrate our space exploration program and its focus on the inner part of the solar system.
The updated version, renamed "Cosmic Journey", is spectacular, better organized and easier to follow than its predecessor. It has been updated to include new missions sent over the past 4 years. The new color code includes the paths of failed, as well as successful, missions and also the nation that led them.
If you are a fan of space exploration, I strongly recommend that you take the time to explore this map in high resolution.
The history of space exploration is still in its infancy, we are not yet the master of this technology, so  we have had many difficult moments that we call today "failures". For instance, almost forty missions were launched to explore Mars but fewer than half of them succeeded in reaching the planet and returning useful data. Most successful ones were led by NASA and ESA. Unfortunately, statistic show that Mars is a doomed place for probes from the Soviet/Russian space agency.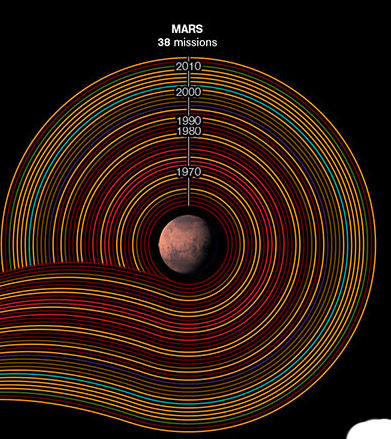 The recent diversity of colors around the Moon illustrates quite well that Earth's satellite is becoming the new "place-to-be" for newest space-faring nations. Dominations of Russian and American (red and orange orbits) before 1990s is being replaced by a more colorful set of orbits which includes missions from the lunar exploration programs of Japan, China and India.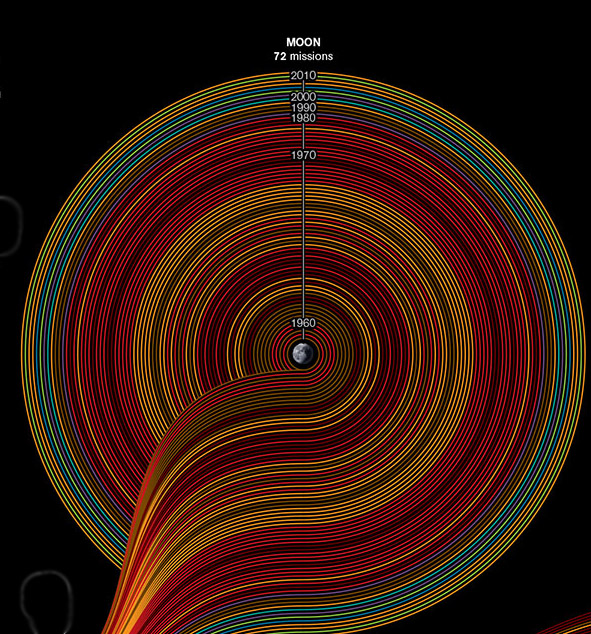 Thanks to the eyes of distant robots, we have also been  taking pictures of far-off bodies like Jupiter, Saturn , Uranus and Neptune, or the outer solar system. And our quest is not over- NASA's New Horizons, on its way to the dwarf planet Pluto, will flyby that multiple system quite soon on July 15 2015. ESA is already preparing a new mission, called JUICE, to explore Ganymede, a satellite of Jupiter. We have to be patient because this spacecraft will finally enter orbit around Ganymede in 2032. For sake of completeness, I should mention that NASA is also preparing the next mission to explore Europa (e.g. Europa Clipper), with the goal of better understanding the composition and activity of its ocean.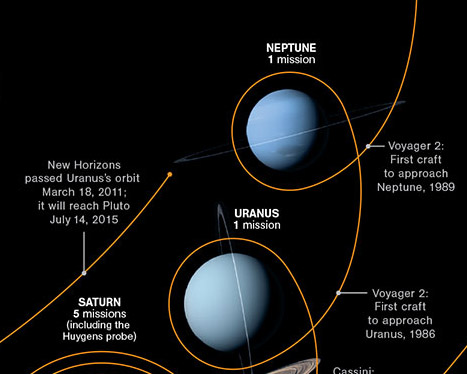 The bottom of the diagram shows the relative positions of these deep space missions, including Voyager 1, which recently reached the interstellar space. Pioneer 10 & 11 are not too far away, but have both been shut down. Voyager 1 is  the robot, or controllable human-made spacecraft,  located farthest from our home planet.

The only downside to this spectacular map is the absence of orbits around minor bodies. Samuel Velasco, one of its creators, told me me that missions to asteroids and comets were not included because the graphic was getting too difficult to read. Tough choices had to be made.
Enjoy the map. Thanks 5Wgraphics and National Geographic for making such a beautiful illustration available to us.
Clear skies,
Franck M.