This exceptional result was brought to my attention late on Friday evening, but it clearly deserves a short post on this blog. Chang'E 2, a chinese mission dedicated to the exploration of the moon was recycled to explore the Near-Earth Asteroid (4179) Toutatis  and succeeded.
Launched on  October 1, 2010 aboard a Long March 3C rocket, the probe was in lunar orbit until August 25, 2011. The spacecraft is equipped with several instruments, such as stereo camera, Laser altimeter, Gamma/X-ray Spectrometers and a Microwave Detector. To date, no publications or presentations in English of the spacecraft data and findings have been made. In February 2012, the Chinese government claimed to have built the most detailed map of the moon with a resolution up to 1.3 m from the Chang'E 2 data
The western world discovered serendipitously the evolution of mission by observing and trackingthe spacecraft with ground-based telescopes. After being  placed in the Earth–Sun L2 Lagrangian point to test the tracking capability, it started on  15 April 2012 a new mission by leaving the L2 point and sailing in outer space toward the asteroid (4179) Toutatis.
On December 13 2012, the spacecraft visited the asteroid and took the first pictures of this asteroid. This successful flyby was announced a few hours ago on the Chinese TV (this video is in Chinese). The pictures were posted shortly after on Weibo & unmannedspaceflight.com web site.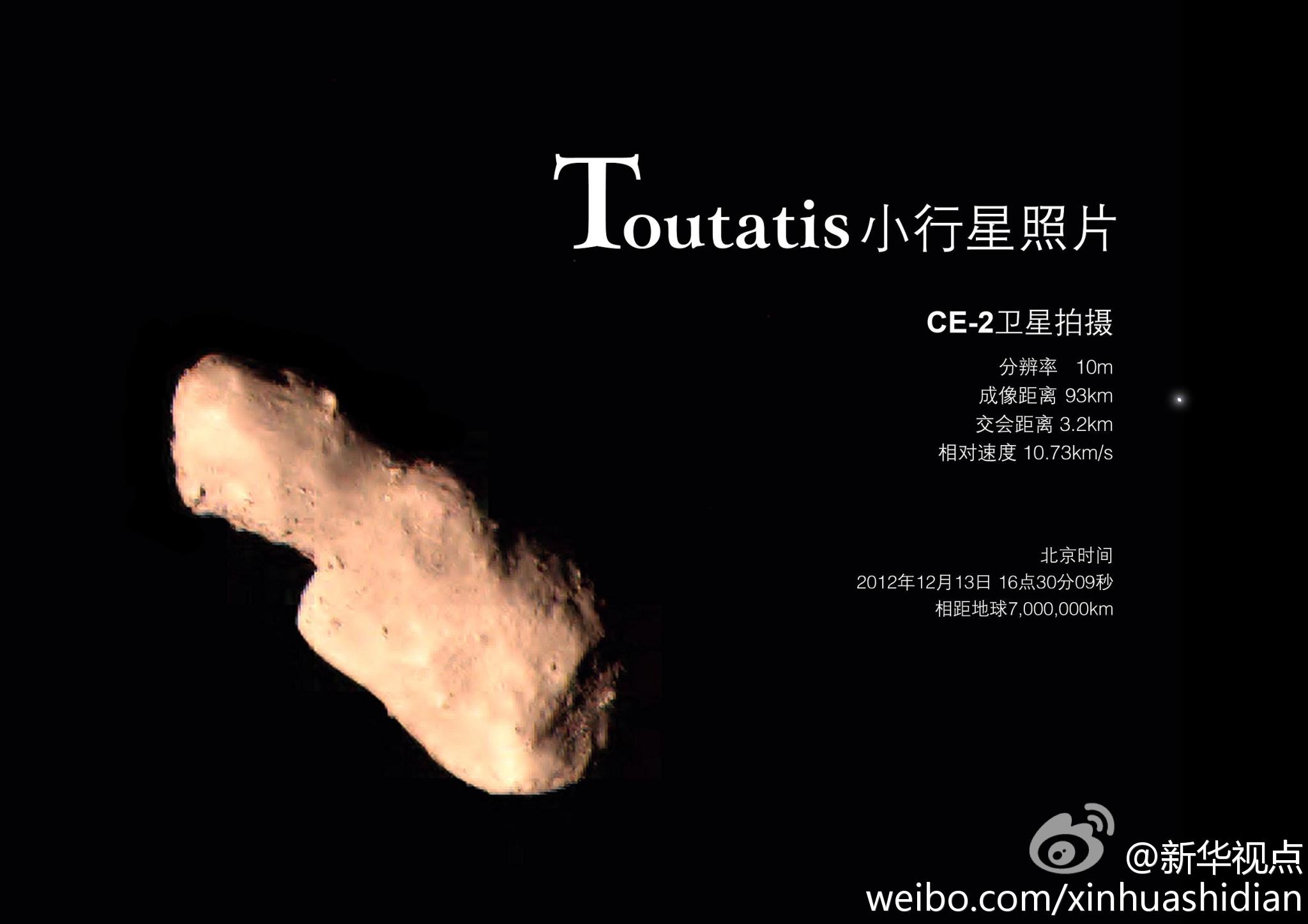 Based on the discussions that I had at the Fall AGU meeting, the planetary science community did not expected this mission  to collect that many pictures due to the high relative speed of the encounter (10.7 km/s). This difficult planetary flyby seems to have succeeded beyond expectations.
This is a remarkable event in the history of space exploration. China has now entered in the "interplanetary club" which has very few members,  namely USA, Russia, Europe & Japan. Welcome China!
Of course, this is a very preliminary result. A confirmation of the flyby, details on the geometry and time of the flyby, but also on the data processing applied on the images should be made available soon. You can check the Planetary Society blog to read more about it and get update over the weekend.
I should mention that the asteroid (4179) Toutatis has a special place in my career. In 1999,  I observed for the first time an asteroid with the adaptive optics system at ESO-3.6m and revealed the bilobed shape of  (216) Kleopatra. Steve Ostro, at the time planetary astronomer at JPL, sent me spontaneously a "welcome package", which contained a long list of papers. In one of them published in Science in 1995, he described the bifurcated shape of (4179) Toutatis which was derived from radar observations. Steve would have been proud to see that the direct images collected by Chang'e 2 confirm his prediction.
Clear Skies,
Franck M.
[Edited at 6:20pm: Japan is also a member of the Interplanetary Club and was added. My apologize. Short discussion on Steve Ostro model added.]