— Version française —
The english version is available below.
À tous les citizen astronomes d'Unistellar,
Si vous possédez un eVscope et que vous souhaitez participer à une campagne de science participative, vous pouvez suivre les instructions ci-dessous.
Cette campagne est très simple. Grâce à l'application Unistellar, votre mission se résumera à l'observation d'une étoile lorsqu'elle est occultée par un astéroïde. L'occultation que nous vous proposons d'observer concerne les personnes qui résident dans la zone entre les deux lignes rouges (voir ci-dessous). L'astéroïde (1094) Siberia occultera une étoile de magnitude 11,3 pendant 1,8 seconde ce samedi 28 Mars 2020 aux alentours de 00h58 (heure locale au Québec, CA). Si vous vivez à Montréal, vous êtes chanceux. C'est une grande opportunité pour vous comme pour les scientifiques.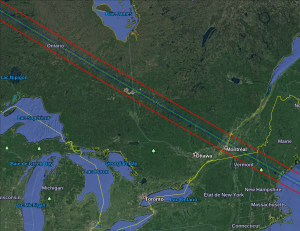 QU'EST-CE QU'UNE OCCULTATION PAR UN ASTÉROÏDE ?
Une occultation est un évènement astronomique défini par le passage d'un astéroïde devant une étoile. Cette dernière est alors cachée partiellement ou complètement. Pour nos yeux, une occultation se manifeste par une étoile qui "disparaît" puis qui "réapparaît".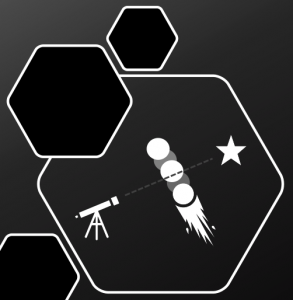 POURQUOI LES OBSERVER ?
Les astéroïdes sont des astres difficiles à étudier de par leur  distance et leur petite taille et sont restés longtemps inconnus aux yeux des astronomes. Aujourd'hui, nous savons que les astéroïdes ne proviennent pas de la destruction d'une étoile, mais qu'au contraire, ils sont les briques de la construction des planètes.  En effet, les astéroïdes sont les témoins de la naissance de notre système solaire et si nous parvenons à les étudier, nous pourrons remonter jusqu'aux origines de la vie. C'est pourquoi nous cherchons à les étudier de plus près. Si plusieurs personnes observent et enregistrent la même occultation à différents endroits de la planète où passe l'astéroïde, nous pourrons déterminer la forme, la taille mais aussi si l'astéroïde a une ou plusieurs lunes.
Aujourd'hui il est possible de prédire une occultation en avance et de déterminer quel astéroïde occultera quelle étoile. C'est pourquoi nous nous focalisons sur ces évènements et nous avons besoin de votre aide. Au plus nous avons de données, au plus nous aurons des précisions les caractéristiques de l'astéroïde.
JE PARTICIPE, COMMENT FAIRE ?
Prévenez Unistellar que vous souhaitez participer à son évènement en envoyant un e-mail à citizenscience@unistellaroptics.com
Sachez que l'étoile que nous allons observer se situe à 42° d'élévation dans la direction Sud-Est. Elle est placée dans la constellation Virgo. Prévoyez donc de pouvoir observer cette direction du ciel.
Prévoyez une heure d'avance par rapport au passage de l'occultation afin de préparer l'eVscope. Par conséquent, installez-vous vers 23h45.
1 – Vérifier l'heure sur votre téléphone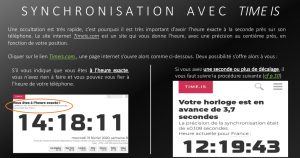 Pour les utilisateurs de iPhone, le télphone se synchronise automatiquement avec le réseau GPS. Par conséquent, le décalage devrait être négligeable et inférieur à 10ms.
Si votre téléphone est un Android et a plus d'une seconde de décalage avec le site, il faut réinitialiser l'horloge de votre téléphone. Pour cela, suivez les instructions ci-dessous :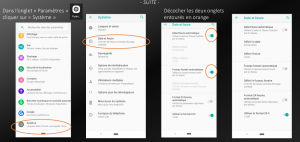 Puis sélectionner de nouveau les deux cases concernées. Et voilà, vous êtes à l'heure ! Si vous voulez en être sûr, vous pouvez retourner sur le site Time.is.
2- Installer votre eVscope
Allumer votre télescope et connecter votre smartphone. N'oubliez pas de faire le focus avant de commencer.
Si vous ne savez pas comment procéder, suivez les instructions ci-dessous :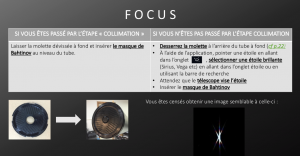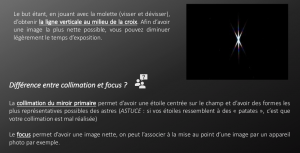 Il faut maintenant que votre télescope se repère dans son champ :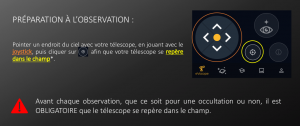 Un fois que vous avez tout fait, vous êtes parés pour observer !
3- Lancer l'enregistrement
30 minutes avant l'occultation, aller dans l'onglet "Science" cliquer sur l'option "Occultation par un astéroïde".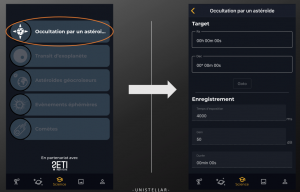 Dans les coordonnées RA/DEC, remplissez avec ces valeurs :
Ra : 14h 20m 27s
Dec : 04° 44m 04s
Cliquer sur "GoTo"
Dans la partie "Enregistrement" :
Temps d'exposition : 120ms
Gain : 50 dB
Durée : 02m 00s
Cliquer sur "Enregistrement" à 00h52 très précisément pour les résidents proches de la ville de Montréal. L'enregistrement est maintenant lancé, vous pouvez cliquer sur l'onglet "eVscope" pendant l'enregistrement afin d'apprécier l'occultation en direct.
Une fois l'enregistrement terminé, dans l'onglet "User", n'oubliez pas de "Télécharger les données" dans un premier temps, puis de nous les transférer a partir de votre Wi-Fi.
Félicitations ! Vous avez désormais accompli votre mission. Nos scientifiques vous remercient et publieront les résultats de l'occultation prochainement sur EURASTER et sur notre site internet www.unistellaroptics.com
C'est un petit pas pour vous et un grand pas pour notre connaissance du cosmos.
—- English Version —-
To all citizen astronomers of Unistellar,
If you have an eVscope and you want to participate to a citizen science campaign, you can follow the instructions below.
You mission is the observation of an occultation by an asteroid using the Unistellar eVscope and its application. In this case, the (1094) Siberia asteroid will occult a V-11.3 star during 1.8 second the 28th of March at 00h58am (local hour in Quebec, CA) . With this luminosity and this duration time, you can see the star being occulted It's a big opportunity for you, and for science. Indeed, if you live between the two red lines and particularly in  the area near Montréal you are lucky and may see this event.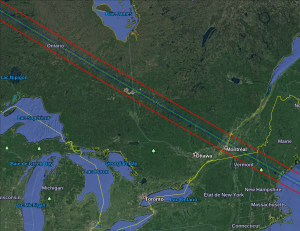 WHAT IS AN OCCULTATION BY AN ASTEROID ?
An occultation is an astronomical event defined by the passage of an asteroid in front of a star. Then, the latter is partially or completely hidden. For our eyes, an occultation is manifested by a star which "disappears" then which "reappears".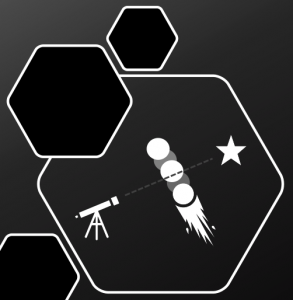 WHY OBSERVING THEM ?
For a long time, asteroids still being unknown by astronomers and we though they were the debris of stars destruction. Now, we know that they are the building brick of the planet, that's why the study of them is very important. Asteroids testify to the first moments of our solar system. If we learn about them, we learn about the beginning of life. If many of us observe the same occultation along its path all around the world, we can have precious information like the shape, the size of asteroids and if it has moons around it.

Today, thanks to the knowledge about several asteroid orbits, it's possible to predict when and where it will be possible to see an occultation. That's why we focus on these events and why we need your help. Then, we have to collect a maximum of results from different locations and analyse them.
 The more data we have, the more details about the asteroid's characteristics we will have.
I'M IN, HOW CAN I DO ?
Inform Unistellar that you want to participate to this event by sending an e-mail to citizenscience@unistellaroptics.com
You have to know that the star we are going to observe is located at 42° elevation in the Southeast direction. It is placed in the Virgo constellation. Plan a field accordingly.
Plan 1 hour in advance before the occultation event to prepare your eVscope. Therefore, settle in the site around 11:45pm.
1 – Check the time on your phone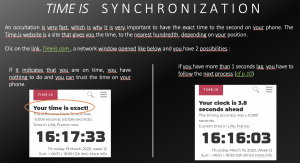 For iPhone's users, your phone automatically synchronizes with the GPS network. Therefore, the offset should be negligible and less than 10ms.
If you are an Android user and your phone has more than one second lag with the site, you need to reset your phone clock. To do this, follow the instructions below :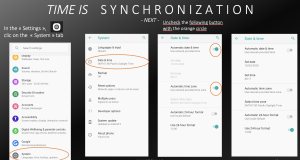 Then, select the two boxes again. And here you are, on time ! If you want to be sure you can return to the Time.is site.
2- Install your eVscope

Turn your eVscope on and connect your smartphone. Don't forget to do the focus before you start.
If you don't know how to do it, follow the instructions below :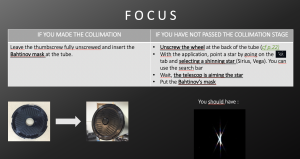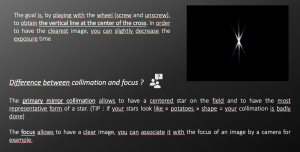 Now your telescope needs to find its way in the field :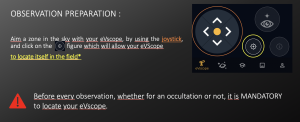 Now you are ready to observe !
3- Launch the recording
30 minutes before the occultation, in the "Science" tab, click on "Asteroid occultation" option.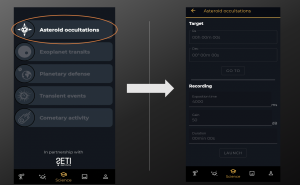 In the RA/DEC coordinates, fill with these values :
Ra : 14h 20m 27s
Dec : 04° 44m 04s
Click on "GoTo"
In the "Recording" part :
Exposure time : 120ms
Gain : 50 dB
Duration : 02m 00s
Click on "Recording" at 12:52am very precisely. The recording is now launched, you can click on the "eVscope" tab during the recording in order to enjoy the occultation live.
Once the recording is complete, in the "User" tab, don't forget to "Download the data" first, then transfer them from your Wi-Fi.
Congratulations ! You have now accomplished your mission. Our scientists thank you an will publish the occultation results soon on EURASTER and on our website.
It is a small step for you, and a big step for science.