1998RO2 is a  body classified as a potentially hazardous asteroid that has been and will be mentioned in the news  in the next 2 weeks. With a diameter estimated to 2-4 km, it's one of the largest asteroid with this classification. First of all, let's clarify that we can say with confidence that it will NOT hit Earth since its orbit is well  characterized with occultations collected since its discovery in 1998. We know that it will make a close flyby to Earth by the end of April 2020 and will be visible with binocular and naked eye from very dark site. We also know that on April 14 at around 2:14 CET, the asteroid will occult a 7-mag star in the constellation of Cancer for less than 1s. We are asking our Unistellar citizen astronomers to observe this event so we could characterize the asteroid, derive its size, shape and eventually detect a moon. Below the instruction in French then in English to participate to this campaign.
19980R2 est un corps classé dans la catégorie des astéroïdes potentiellement dangereux, il a été et sera mentionné dans l'actualité au cours des deux prochaines semaines.  Avec un diamètre estimé à 2-4 km, c'est l'un des plus larges astéroïdes de sa classification. Dans un premier temps, nous allons clarifier la situation en affirmant avec certitude que cet astéroïde NE FRAPPERA PAS la Terre puisque son orbite est très bien caratérisé grâce aux occultations recueillies depuis sa découverte en 1998. Nous savons qu'il survolera la Terre de très près d'ici fin Avril 2020 et sera visible à la binoculaire et à l'oeil nu depuis un site très sombre.  Nous savons également que le 14 Avril aux environs de 2:14 CET, l'astéroïde occultera une étoile de magnitude 7 dans la constellation du Cancer pendant moins d'une seconde. Nous demandons à nos citoyens astronomes d'Unistellar d'observer cet évènement afin que nous puissions caractériser  cet astéroïde, dériver sa taille, sa forme et éventuellement détecter une lune. Vous trouverez ci-dessous les instructions en anglais, et en français pour participer à cette campagne.
Je souhaite y participer, comment faire ?
C'est plus simple que ce que vous pensez ! Vous n'avez qu'à suivre ses étapes.
 La veille de l'occultation, veuillez vérifier :
Météo
Avant même de vous précipiter dans cette aventure, nous vous recommandons de regarder la météo et de vérifier que le ciel soit partiellement ou complètement dégagé le soir de votre observation. Pour cela, nous vous recommandons de consulter le site clearoutside.com.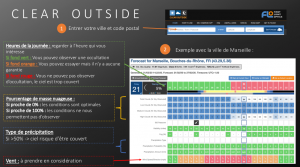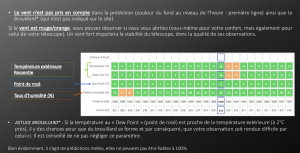 Batterie
Rechargez la batterie de votre eVscope.
Mise à jour de l'application
Assurez-vous d'avoir l'application Unistellar mise à jour.
Vider la mémoire de votre eVscope
Connectez-vous à votre télescope et vérifiez que la mémoire soit vide (si ce n'est pas le cas, référez-vous à l'étape 1).
Étape 1- Vider la mémoire de votre eVscope : Attention cette étape prend une vingtaine de minute
Connectez votre smartphone à votre eVscope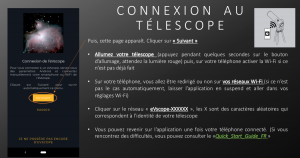 Dans l'onglet "Users", cliquez sur "Télécharger les données" puis patientez
Déconnectez vous de votre eVscope pour vous connecter à votre borne Wi-Fi puis cliquez sur "Transférer les données"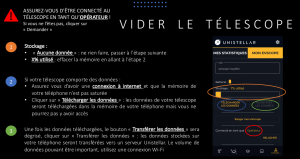 Si toutes les étapes sont vérifiées et que vous souhaitez participer à la campagne,
Informez Unistellar de votre participation
En répondant au mail que vous recevrez à l'adresse citizenscience@unistellaroptics.com
Une fois ces étapes réalisées correctement, vous êtes prêt pour observer. 1h avant l'occultation, veillez à la bonne applications de ces recommandations :
Heure estimée de l'occultation en fonction de votre ville la plus proche:
Sainte-Maries-de-la-mer T= 2:14:27 CET
Arles T= 2:14:22 CET
Avignon T = 2:14:10 CET
Nyons T= 2:14:00 CET
Volvent T= 2:13:54 CET
Saint-Martin-de-Clelles T= 2:13:44 CET
Chamrousse T= 2:13:28 CET
Aiguebelle T= 2:13:22 CET
Megeve T= 2:13:11 CET
Gryon T= 2:13:00 CET
Vous trouvez plus de villes en Suisse, Allemagne, et Tchéquie dans la version anglaise.
Vérifiez l'heure sur votre téléphone
Pour vérifier si votre téléphone est à l'heure, consultez le site Time.is :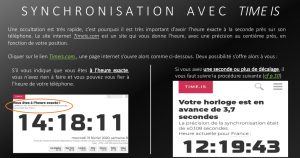 Si vous êtes dans la situation de droite et que votre téléphone est "à l'heure exacte", vous pouvez passer à l'étape d'après. En revanche, si vous êtes dans la situation de gauche et que votre horloge à un décalage supérieur à 1 seconde, référez-vous à l'étape 2.
Pour les utilisateurs iPhone, votre téléphone se synchronise automatiquement avec le réseau GPS. Ainsi, votre décalage par rapport à l'heure indiquée sur le site devrait être négligeable et inférieur à 10ms et votre téléphone devrait être "à l'heure exacte".
En ce qui concerne les utilisateurs Android, la plupart du temps votre téléphone n'est pas à l'heure exacte. Par conséquent, il est recommandé que vous suiviez l'étape 2.
Étape 2- Synchronisation avec Time.is
Cliquez sur "Paramètres"
Dans l'onglet "Système", cliquer sur "Date et heure"
Décochez les options "Date/Heure automatique" ainsi que "Fuseau horaire automatique"
Re-cochez les options "Date/Heure automatique" ainsi que "Fuseau horaire automatique"
Consultez de nouveau le site Time.is afin de vérifier que la procédure ait bien fonctionné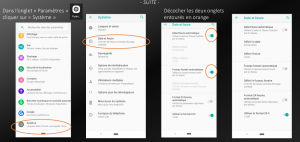 Installez votre eVscope
Déployez votre trépied
Placez la bulle à niveau au centre du cercle
Dévissez les deux vis du trépied, placez le tube et vissez
Enlevez le cache et le masque de Bahtinov

Allumez votre eVscope
Connectez votre smartphone
Et c'est parti !
Repérage dans le champ
Une fois votre télescope allumé et connecté à votre smartphone, visez un endroit étoilé du ciel à l'aide de votre joystick. Puis cliquez sur "Repérage dans le champ".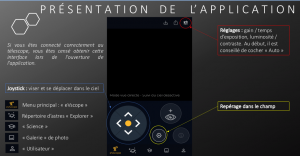 Votre télescope sait désormais où il se trouve. Vous pouvez ainsi passer à l'étape suivante.
Faites le focus
Le focus est important, il vous permet d'avoir des images nettes. Pour le réaliser correctement, il faut viser une étoile très brillante. Il est recommandé de viser Sirius ou Vega. Pour cela , suivez l'étape 3.
Étape 3- Pointer une étoile brillante et faire le focus
Dans l'onglet "explorer" (à droite de l'onglet eVscope), tapez dans la barre de recherche "Sirius" ou "Vega"
Puis cliquez sur "GoTo"
Une fois l'étoile pointée, attendez l'instruction "Pointage GoTo validé"
Insérez le masque de Bahtinov

Pour centrer la ligne sur la croix, il faut jouer avec la molette à l'arrière du tube.

Préparer l'enregistrement : 30 minutes avant l'occultation
Dans la rubrique "Science", cliquer sur l'option "Occultation par un astéroïde".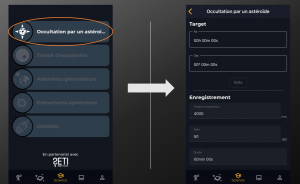 Dans "Target", entrez les coordonnées de l'étoile :
RA : 08h26m06s
DEC : 28°37m42s
Remarque : Lorsque la coordonnée est inférieure à 10, veillez à cliquer sur "0" avant d'entrer le chiffre suivant. Par exemple pour RA : cliquez sur "0" puis sur "8" pour la première coordonnée.
Puis cliquez sur "GoTo".
Lancer l'enregistrement
2 minutes avant l'heure T indiquée dans le mail (voir aussi plus haut) dans la partie "Enregistrement", entrez les valeurs suivantes :
Gain : 25 dB
Temps d'exposition : 150ms
Durée de l'enregistrement : indiqué dans le mail que vous avez reçu
Vérifiez vos valeurs puis cliquez sur enregistrement à T-1min
Remarque : lorsque vous cliquez sur "Enregistrement", un cercle orange qui tourne s'affiche vous indiquant que l'enregistrement est en cours. Malgré cette indication, vous pouvez voir l'occultation en direct en cliquant sur l'onglet "eVscope".
Transférer vos données
Une fois l'enregistrement terminé, veillez à nous transférer vos données. Pour cela, référez-vous à l'étape 1.
Afin de vérifier que cette procédure ait bien fonctionné, reconnectez-vous à votre eVscope et dans l'onglet "User" assurez-vous que votre barre de stockage soit vide ou, à défaut, à 1%.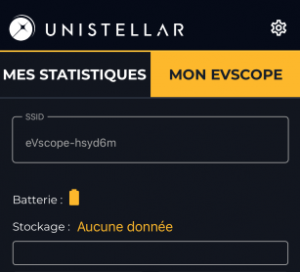 Félicitation, vous venez d'accomplir votre mission. Nos scientifiques vous remercient et espèrent que l'observation vous ait plu. Nous publieront les résultats sur EURASTER et sur notre site web.
C'est un petit pas pour vous, et un grand pas pour la science.
---
I want to participate, how can I do ?
It's easier than you think ! You just have to follow these steps;
 The day before the occultation, check :
The weather
Before being excited by doing this adventure, we recommend you to check the weather by consulting the following website : clearoutside.com.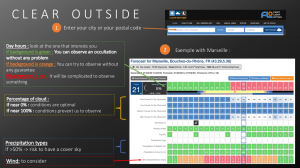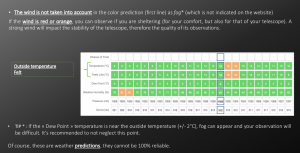 Battery
Charge the battery of your eVscope
Update the application
Make sure your application is update.
Empty the memory of your eVscope
To do that, connect your smartphone to your eVscope and check if your memory is empty. If that is not the case, go step 1.
Step 1- Clear your eVscope memory : Warning, this step can take up to 20 minutes
Connect your smartphone to your eVscope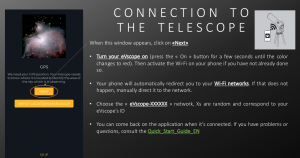 In the "User" tab, click on "Download data" and wait
Disconnect your smartphone from your eVscope and connect your phone to your Wi-Fi. Then click on "Upload data".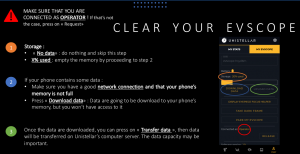 If every steps are checked and you want to participate to the campaign,
Inform Unistellar
By answering to the e-mail you'll receive at the following address citizenscience@unistellaroptics.com
Once these steps are done, you are ready to observe.
The estimated time for the occultation at several locations  is the following:
Wolhusen T=02:12:33 CET
Hitzkirch T=02:12:28 CET
Zurich T=02:12:22 CET
Pfullendorf T=02:12:06 CET
Ulm T=02:11:50 CET
Neumarkt der Oberpfalz  02:11:12 CET
Toužim 02:10:45 CET
Novy Bor 02:10:17 CET
1 hour before the occultation, please follow these steps :
Check the time on your phone
To check if your phone is on time, please consult the Time.is website :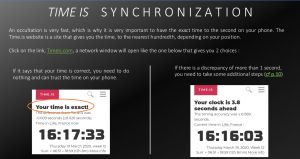 If you are is the right case, it says that "your time is exact", you can skip this step. However, if you are in the left case and your phone has a discrepancy of more than 1 second, we recommend you to follow the step 2.
For iPhone's users, your phone automatically synchronizes with the GPS network. Therefore, the offset should be negligible and less than 10ms. Then, your phone may be on time.
Regarding Android users, most of the time your phone has a discrepancy of more than one second in comparison with the site. You need to reset your phone clock. To do this, please follow the instructions below :
Étape 2- Time.is synchronization
Click on "Settings"
In the "System" tab, click on "Date and time"
Uncheck the buttons "Automatic date and time" and "Automatic time zone"
Then, check again "Automatic date and time" and "Automatic time zone"
Please consult again the Time.is website to know if the process worked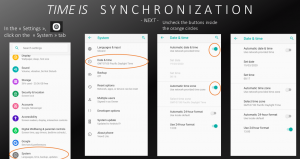 Install your eVscope
Deploy the tripod
Put the bubble level in the center of the cercle
Loosen the 2 screws of the tripod, put the tube and screw them
Remove the cover and the Bahtinov mask

Turn on the eVscope
Connect your smartphone
Here we go !
Location in the field
Once your eVscope is turned on, connect it to your smartphone and point a starlight location in the sky thanks to the joystick. Then, click on "Location in the field".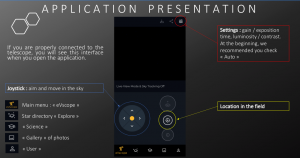 Your eVscope knows where it is. You can go next step.
Focus
The focus is important, it allows you to have clear pictures. To do it properly, you have to point a shinning star like Sirius or Vega. Go step 3 :
Step 3- Point a shinning star and focus
In the "explore" tab (next to the eVscope tab), type "Sirius" or "Vega" in the search bar
Click on "GoTo"
Once the star is pointed, wait for "GoTo validated"
Insert the Bahtinov mask

To centrer the ligne on the cross, you have to play with the wheel at the back of the tube.

Prepare the recording : 30 minutes before the occultation
In the "Science" tab, click on "Asteroid occultation".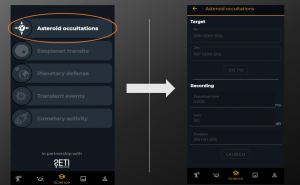 In "Target", put the star's coordinates :
RA : 08h26m06s
DEC : 28°37m42s
Remark : when a coordinate is less than 10, click on "0" before the digit Example here for  RA : click on "0" then on "8" .
Then, click on "GoTo".
Launch the recording
T-2 mn before the beginning of the occultation (T), in the "Recording" part, put these values :
Gain : 25dB
Exposure time : 150ms
Time duration : indicate in the e-mail you've received
Check again your values and click on "Launch" at time T-1 min
Remark : Once the recording launch, it's normal to stay on the "Asteroid occultation" page with an orange circle (which indicate that the recording is in progress). If you want to see the occultation in live, you just have to click on "eVscope" tab after the lauch.
Transfer your data
Once the recording is ended, please transfer us your data. For doing that, refer to step 1.
To check if the process worked, connect your smartphone again to your eVscope and in the "User" tab, make sure that the storage bar is empty or, otherwise, 1% of data.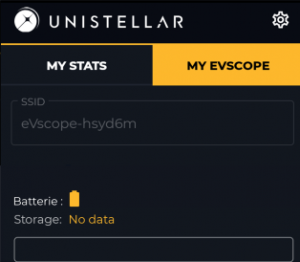 Congratulations, you have now accomplished your mission. Our scientists thank you and hope you enjoyed. We will publish the occultation results soon on EURASTER and on our website.
It is a small step for you, and a big step for science.