Another beautiful simulation of the triple asteroid system (87) Sylvia and its two moons Romulus and Remus made in collaboration with the California Academy of Sciences.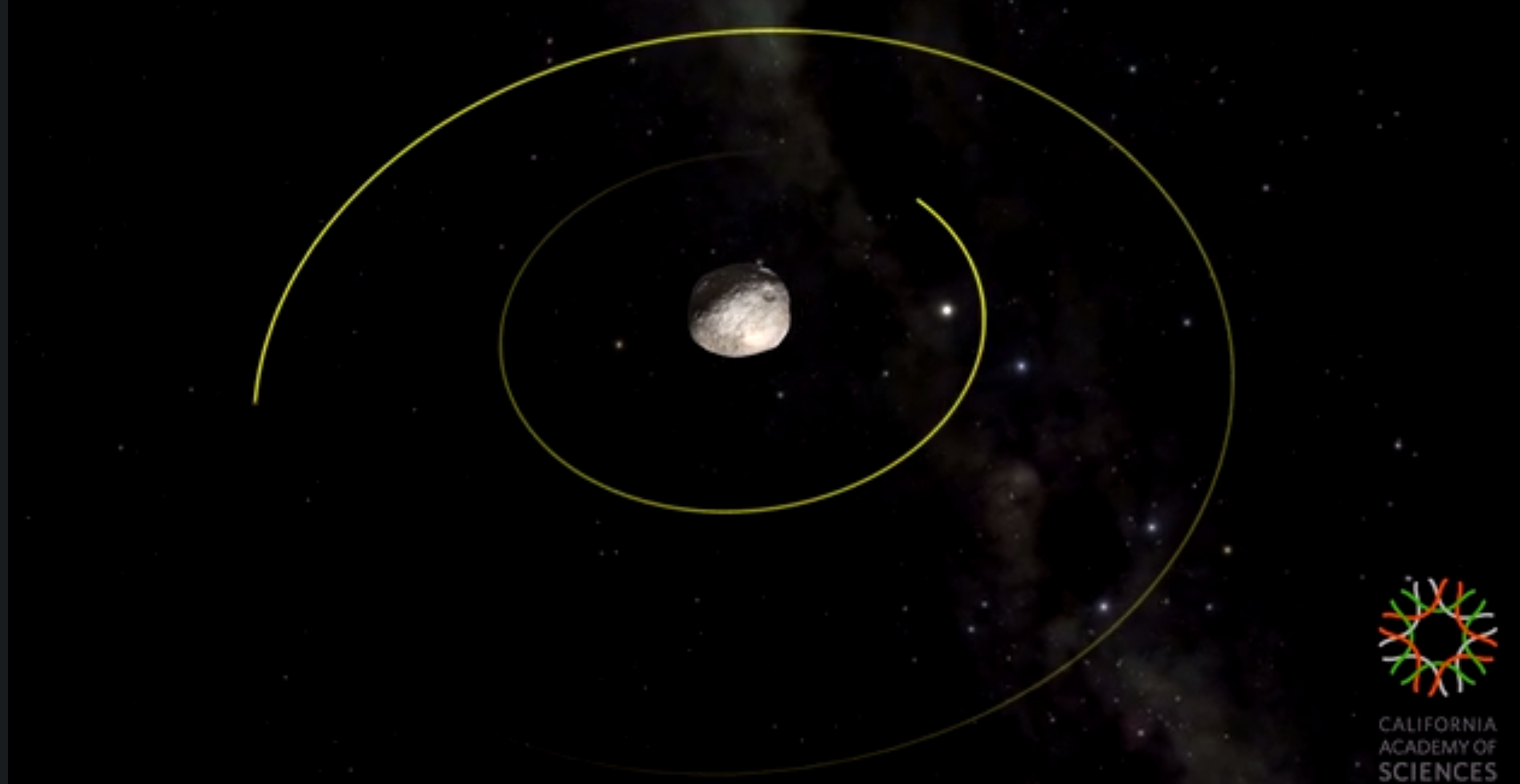 (87) Sylvia was discovered in 1866 by N.R. Pogson, a British astronomer located in Madras, India. This main-belt asteroid is large with a diameter of ~150 km. That's all we knew until recently.
In 2005, we discovered two moons around the asteroid that we baptized Romulus and Remus, sons of the Rhea Sylvia and founder of Rome. Both moons are very small with a diameter estimated to ~20 and ~7 km. The primary is irregular with a diameter of 193 x 129 x 124 km. Both moons orbit around the primary describing a coplanar and almost circular orbit.
From a long term study of their orbit we concluded that the primary is possibly differentiated, made of a dense core of ice. How the moons have formed is still unclear. They could be the product of a catastrophic disruption of a large asteroid early in the history of the  solar system.
The triple asteroid (87) Sylvia and its two moons Romulus and Remus from Franck Marchis on Vimeo.
(87) Sylvia is the first triple asteroid ever discovered. I have a fond memory of the day, I presented this discovery at the ACM conference in August 2005 at Buzios, Brazil, simultaneously with the publication in Nature. It was a very special moment in my career.
Today we know six  triple asteroids in the asteroid main-belt (45 Eugenia, 87 Sylvia, 93 Minerva, 130 Elektra, 216 Kleopatra, 3749 Balam)and there are probably more of them waiting to be discovered with the next generation of space-based and ground-based telescopes.
Clear Skies,
Franck M.