It is this time of the year again… I am convening and chairing a session on Asteroids entitled "Characterizing Small Solar System Bodies" tomorrow Tuesday at the December 9th at AGU Fall Meeting. It will be composed of nine talks presented in the morning and twenty posters Characterizing Small Solar System Bodies in the afternoon.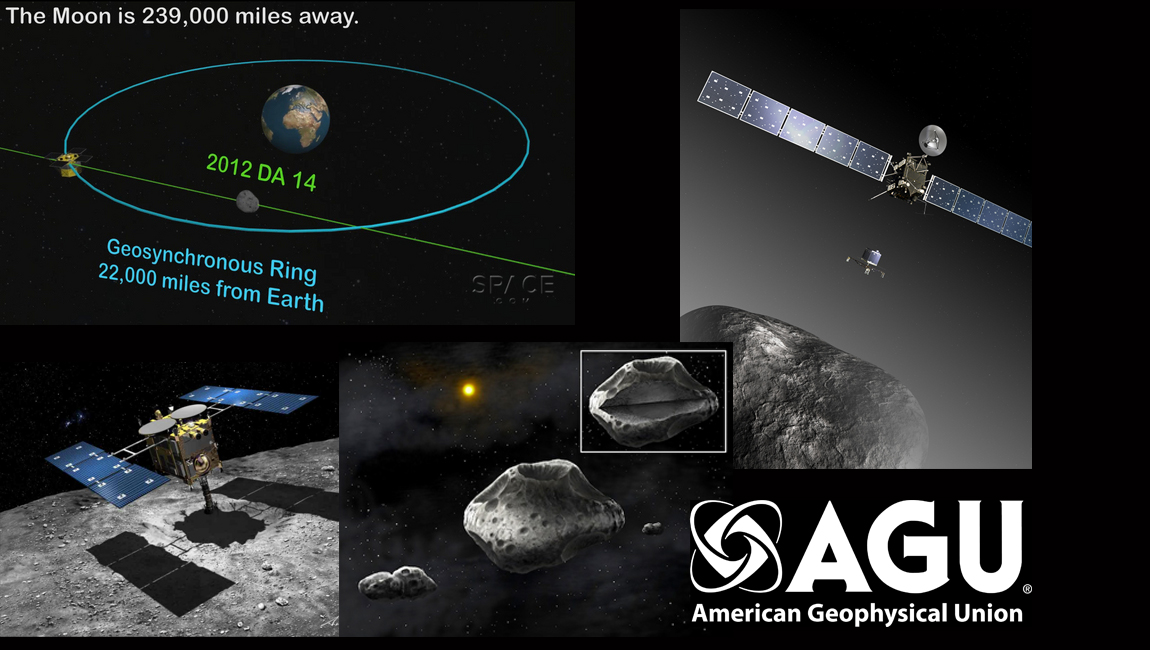 This session will be an opportunity to discuss recent results in the field of asteroids and other small solar system bodies (SSSBs). The composition and physical properties of SSSBs, remnants of the formation of planets, are key to better understand our solar system. Increased knowledge of their surface properties and their potential as resources are also necessary to prepare for robotic and human exploration. Hints about the internal structure and composition of SSSBs have been acquired recently thanks to flyby/rendezvous data from space missions, study of multiple asteroid systems, or close encounter between asteroids.
The session includes abstracts on the internal structure and composition of SSSBs based on space and ground-based data, numerical models, and instrument/mission concepts in the prospect of future exploration.
We have three invited talks including Yano Hajime who will talk about JAXA exploration program of small solar system bodies, and Nick Moskovitz who will present recent results acquired during the Near-Earth flyby of asteroid 2012DA14 in Feb. 2013 and Sean Lindsey who will show how we can derive the composition of asteroids from mid-IR spectroscopy.  I am also curious to hear about the Rosetta Lander, Philae, that will explore the comet 67P/Churyumov-Gerasimenko next year.
I am also presenting my work at this session through a poster which consists in  the spectroscopic analysis of three multiple asteroid systems (617 Patroclus, 45 Eugenia and 87 Sylvia) that we have conducted using SPIFFI and SINFONI, a spectro-imager available at the UT4 of the Very Large Telescope.  You found out that despite all our efforts the mutual orbit of the Trojan asteroid (617) Patroclus and Patroclus remains unclear, most likely not a simple Keplerian orbit. Interestingly, we also managed to extract the H+K spectrum of the outermost moons of the triple asteroids 45 Eugenia and 87 Sylvia. Surprisingly, the moons have a bluer spectrum than their primary, implying that they may have a slightly different composition or more likely a coarser surface (with less regolith).
Below the program of the oral and poster presentations.
See you tomorrow hopefully.
Clear Skies
Franck M.
P22A. P22A. Characterizing Small Solar System Bodies I [SWIRL_CU]
Convener(s): Franck Marchis (Carl Sagan Center, SETI institute) and Julie Castillo (Jet Propulsion Laboratory, CALTECH)
Chairs: Franck Marchis (Carl Sagan Center, SETI institute) and Sean Lindsay (U. of Tennessee, Knoxville, TN)
10:20 AM – 12:20 PM; 2007 (Moscone West)
10:20 AM – 10:35 AM
P22A-01. Japanese Exploration to Solar System Small Bodies: Rewriting a Planetary Formation Theory with Astromaterial Connection (Invited)
Hajime Yano
10:35 AM – 10:50 AM
P22A-02. Determining Mineralogy and Texture of Asteroid Surfaces from Mid-Infrared Spectroscopy (Invited)
Joshua P. Emery; Sean Lindsay

10:50 AM – 11:05 AM
P22A-03. The Near-Earth Flyby of Asteroid 2012 DA14 (Invited)
Nicholas A. Moskovitz; Thomas Endicott; Tim Lister; Bill Ryan; Eileen V. Ryan; Mark Willman; Carl Hergenrother; Richard P. Binzel; David Polishook; Francesca DeMeo; Susan Bennechi; Scott Sheppard; Franck Marchis; Thomas Angusteijn; Peter Birthwhistle; Arie Verveer; Amanda Gulbis; Takahiro Nagayama; Alan Gilmore; Pam Kilmartin

11:05 AM – 11:20 AM
P22A-04. Rosetta Lander – Philae: preparations for landing on comet 67P/Churyumov-Gerasimenko
Stephan Ulamec; Jens Biele; Eric Jurado; Philippe Gaudon; Koen Geurts

11:20 AM – 11:32 AM
P22A-05. Constraining the Interior Geophysics of Rubble Pile Asteroids
Daniel J. Scheeres; Seth Jacobson; Jay McMahon; Masatoshi Hirabayashi

11:32 AM – 11:44 AM
P22A-06. Restarting NEOWISE
Amy Mainzer; James M. Bauer; Roc M. Cutri; Tommy Grav; Joseph Masiero; Edward Wright; Peter Eisenhardt; Carolyn R. Nugent; Rachel Stevenson; Beth Fabinsky

11:44 AM – 11:56 AM
P22A-07. A direct observation the asteroid's structure from deep interior to regolith: why and how do it?
Alain Herique; Wlodek W. Kofman
11:56 AM – 12:08 PM
P22A-08. Seismically induced global scale regolith mobility on sub-kilometric scale asteroids: consequences on internal structure determination, sensitivity to Yarkovsky effect and future exploration
Raphael Garcia; Naomi Murdoch; David Mimoun

12:08 PM – 12:20 PM
P22A-09. Curvilinear, interconnecting gullies and associated flow features as evidence for transient water flow on Vesta
Jennifer Scully; Christopher T. Russell; An Yin; Ralf Jaumann; Harry Y. McSween; Carol A. Raymond; Vishnu Reddy; Lucille Le Corre
P23A. P23A. Characterizing Small Solar System Bodies II Posters [SWIRL_CU]
Convener(s): Franck Marchis (Carl Sagan Center, SETI institute) and Julie Castillo (Jet Propulsion Laboratory, CALTECH)
1:40 PM – 6:00 PM; Hall A-C (Moscone South)
1:40 PM – 1:40 PM
P23A-1750. TIR Emissivity Spectra of Thermally Processed Sulfates, Carbonates and Phyllosilicates as Analog Materials for Asteroid Surfaces
Alessandro Maturilli; Jorn Helbert; Mario D'Amore; Sabrina Ferrari
1:40 PM – 1:40 PM
P23A-1751. An Impact Origin for Surface Minerals on Ceres
Mikhail Y. Zolotov
1:40 PM – 1:40 PM
P23A-1752. FANTINA instrument suite: A payload proposed to measure the asteroid's structure from deep interior to regolith
Dirk Plettemeier; Alain Herique
1:40 PM – 1:40 PM
P23A-1753. Active Centaur P/2011 S1 (Gibbs)
Hsing-Wen Lin; Ying-Tung Chen; Pedro Lacerda; Wing-Huen Ip; Matthew Holman
1:40 PM – 1:40 PM
P23A-1754. Castalia – European Mission to a Main Belt Comet
Martin Hilchenbach
1:40 PM – 1:40 PM
P23A-1755. Physical properties of craters on the Achaia region of asteroid (21) Lutetia
Anne-Thérèse Auger; Sylvain Bouley; Laurent Jorda; Olivier Groussin; David Baratoux; Claire Capanna; Philippe L. Lamy
1:40 PM – 1:40 PM
P23A-1756. The Atlases of Vesta derived from Dawn Framing Camera images
Thomas Roatsch; Elke Kersten; Klaus-Dieter Matz; Frank Preusker; Frank Scholten; Ralf Jaumann; Carol A. Raymond; Christopher T. Russell
1:40 PM – 1:40 PM
P23A-1757. Constraints on the size of Asteroid (216) Kleopatra using stress analysis
Masatoshi Hirabayashi; Daniel J. Scheeres
1:40 PM – 1:40 PM
P23A-1758. Constraining the inner structure of asteroids in multiple systems
Laurene Beauvalet; Franck Marchis; Jean-Baptiste Ruffio
1:40 PM – 1:40 PM
P23A-1759. Discovery of Slow Rotators in The Jovian Trojan Population from Pan-STARRS Medium Deep Fields
Yu-Chi Cheng; Wing-Huen Ip; Hsing-Wen Lin; Ying Tung Chen; Wen Ping Chen
1:40 PM – 1:40 PM
P23A-1760. Component-resolved near-infrared spectra of multiple asteroid systems
Franck Marchis; Jean-Baptiste Ruffio; Frederic Vachier; Jerome Berthier
1:40 PM – 1:40 PM
P23A-1761. Survey of Large, Igneous-Textured Inclusions in Ordinary Chondrites
Katherine Armstrong; Alexander M. Ruzicka
1:40 PM – 1:40 PM
P23A-1762. A Lower Size Limit for Near-Earth Asteroid Satellites
Michael Busch; Seth A. Jacobson; Lance Benner; Marina Brozovic; Ellen S. Howell; Jean-Luc Margot; Shantanu Naidu; Michael K. Shepard; Patrick A. Taylor
1:40 PM – 1:40 PM
P23A-1763. New Results on the Surface Gravity of Asteroids and Satellites
Anthony R. Dobrovolskis
1:40 PM – 1:40 PM
P23A-1764. The Atlas of Vesta Spectral Parameters derived from the mapping spectrometer VIR onboard NASA/Dawn
Alessandro Frigeri; Maria Cristina De Sanctis; Eleonora Ammannito; Federico Tosi; Maria Teresa Capria; Fabrizio Capaccioni; Francesca Zambon; Ernesto Palomba; Gianfranco Magni; Ralf Jaumann; Carol A. Raymond; Christopher T. Russell
1:40 PM – 1:40 PM
P23A-1765. Mineralogy of S-complex Asteroids using Reflectance and Thermal Infrared Spectroscopy
Sean S. Lindsay; Joshua P. Emery; Franck Marchis; Emilio Enriquez; Marcelo Assafin
1:40 PM – 1:40 PM
P23A-1766. Whipple: A Discovery mission concept to probe the outer solar system
Ralph Kraft; Charles Alcock; Stephen Murray; Almus Kenter; Michael Werner; Roger Lee
1:40 PM – 1:40 PM
P23A-1767. Similarities and Differences Among Carbonaceous Chondrite Reflectance Spectra
Edward Cloutis
1:40 PM – 1:40 PM
P23A-1768. Regional Source of the Earth-Moon Progenitors
Billy Quarles; Jack J. Lissauer
1:40 PM – 1:40 PM
P23A-1769. 3-dimensional simulation of the tangential YORP effect
Oleksiy Golubov; Daniel J. Scheeres; Yurij N. Krugly