On November 26 2012, I gave a lecture at a UC-Berkeley for the course "Ethics for Astronomers" led by Paul Kalas, Professor in this university and colleague of mine for several years. I think this kind of courses is extremely important for graduate students who will face ethical issues in their career and need to learn early how to address them.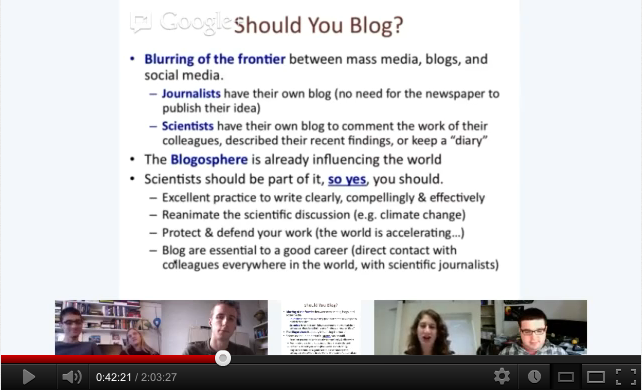 In my lecture, I discussed first how my career was modified when I started blogging for the  Cosmic Diary of the International Year of Astronomy in January 2009 and some highlights in my work which are direct consequences of this blog and my activity on Twitter. After almost 4  years, I know for sure that a famous professor at UC Berkeley was wrong when she said that "I was wasting my time with this blog".
In a second section, I tried to motivate the students to become bloggers and thus to participate to the scientific debate in the blogosphere. In fact, the audience was already converted to this idea since most of them were members of the astrobites blog. A blog written by graduate students in Astrophysics at universities throughout the US and Europe. I mentioned the pro and con of the blogging experience, reminding the golden rule: "Do not write anything online (in your blog, in your tweets, in your commentaries) that you will not say in person" and the risks inherent of blogging in particular with the relation with your employer.
The last section of my lecture was dedicated to the #arseniclife debate and how the blogosphere can make science better or worst. I restrained myself for taking sides during this saga which started in december 2010 (with the exception of a few tweets) but I followed it closely.  It was a fascinating exercise to summarize it and to discuss with the students their perception of the story and the way they had imagined this saga could have had a better ending.
Since we conducted this lecture in person and through a Google Hangout, it has been save for posterity on Youtube and can be visualized below:
It is a 2h lecture with a lot of French accent and lengthy discussion, so maybe a bit too long for a general audience. You can however also check the slides of my lecture on Scribd.
Science and Ethical Dilemmas in the Blogosphere
I am glad that we have those technology tools to share with you this discussion.
Blogging is a novel way of communicating with the public, the excitement for science. It is sometimes perilous, often tedious, but ultimately rewarding and fun. I enjoy the freedom of writing this blog and it definitely helps me think thoroughly new ideas and concepts. I often mention to my fellow researchers at the SETI Institute that they should  keep a personal blog, even if they barely use it.
At the end of my lecture, several students agreed that the #Arseniclife saga would not have been such a negative moment in science if Felisa Wolfe-Simon had indeed her own blog and had taken the time to address the comments of her work. The pace of the world is getting faster, and scientists cannot work in their Babel tower pretending that nothing has changed over the years.
Thanks Prof. Paul Kalas for inviting me and Lauren Weiss for setting up the Google Hangout with several Astrobites students. It was fun and very informative, a great learning experience for all I hope.
Clear skies
Franck M.