Dear Planetary enthusiasts,
Over the past week, we may have heard a lot about a famous volcano in Iceland, named Eyjafjallajokull, which forced more than 64,000 flights between Europe and the rest of the world to be canceled and affected the vacation and business trips of several millions of people. But have you heard about the Idunn Mons, Hathor and Innini Montes and Mielikki Mons? These are other exotic names for volcanoes located on another planet,  a world that we suspected for a long time to be volcanically active as well. A recent discovery may have confirmed the existence of active volcanoes on Venus.

Venus, often called the twin sister of our planet, is so different that it could be considered as an hellish version of Earth. It has a dense atmosphere with extreme greenhouse effect with a temperature on the surface as high as 900 deg C. As such high temperature  the rocks have elastic behavior, making Venus free of plate tectonics. The Magellan orbiter from mapped 98% the surface of the planet using its powerful radar from 1990 to 1994. These data revealed the presence of volcanic features on Venus, such as shield volcanoes and lava fields. However, we never saw an eruption taking place which will be the "smoking gun" to confirm that Venus is still a volcanically active planet. When Venus Express, a space mission built and managed by ESA, reached the orbit of Venus in April 2006, its main objective was to detect the presence of these active volcanoes.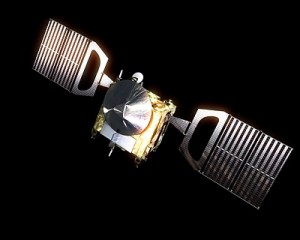 After four years of data collecting and analysis, the  team led by Suzanne Smrekar, researcher at the JPL, published on April 8 a  Science Express report, announcing the discovery of three active volcanoes located above "hot spots".  These hot spots have characteristics similar to the Hawaiian volcanoes, such as  broad dome shape linked with a gravitational anomaly suggesting that lava is upwelling from the interior deforming the surface of the planet. VIRTIS, the Visible and Infrared Thermal Imaging Spectrometer, a near-infrared instrument on board Venus Express imaged three areas named Imdr, Themis, and Dione Regiones. These recent data revealed a brightening of on the slope of volcanoes located in these areas detected the near-infrared (1 micron) suggesting a warm and young terrain. The team estimated that these lava flows are  likely 250,000 years or less, indicating that Venus is indeed a volcanically active world.
Since the researchers did not witness an eruption, there is still  controversies about the interpretation of these data and their conclusion. To improve their analysis, it is probable that several groups of planetary scientists will test in lab the effect of weathering of Venus rocks in the environment of this planet… a fun project for a graduate student considering the extreme pressure and temperature on the surface of Venus.
Find below two recent pictures of well-known volcanoes: The Eyafallajökull on Earth and the Idunn Mons on Venus. Our solar system is full of sporadic, violent, beautiful and mysterious events, but volcanic eruptions that we can see on Earth and on Io, or geysers on Enceladus, are certainly the most magnificent events. Let's hope that soon we will witness one of these eruptions on Venus as well.
Franck M.
[Left] Clear starry night above the eruption of Eyafallajökull, currently active in Iceland (Photos Marco Fulle, 16 April 2010). [right] Combined 3-D radar image of the volcanic peak Idunn Mons in the Imdr Regio area overlapped with the thermal emission signature of the Venutian volcano. Red indicates a higher emissivity, so a young and warm surface. (c) NASA/JPL/ESA.