Unistellar Signs Up More Than 1,200 Early-adopters for its Revolutionary eVscope Confirming the Public Interest for Citizen Science Astronomy
San Francisco & Marseille, November 9, 2017. Unistellar, a startup that's committed to restore the joy of night-sky viewing to people all over the globe, is off to a strong start thanks to the massive success of its recent Kickstarter campaign.
The campaign gave supporters the opportunity to order an eVscope, a revolutionary, electronics-based telescope that offers unprecedented views of distant objects in the night sky. The device also allows users to make significant contributions to science by joining observing efforts led by prominent astronomers.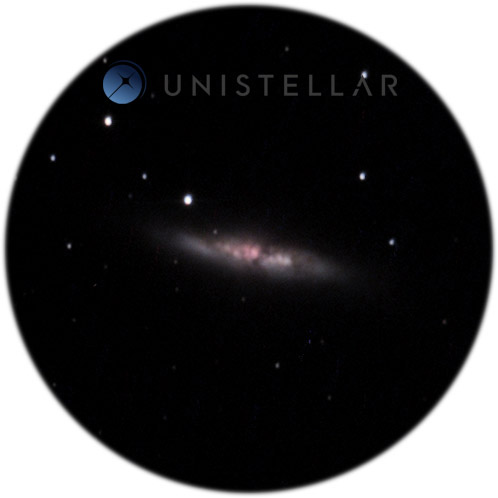 "After three years of prototype development, building, and testing, we were proud to bring our compact, intelligent, and powerful telescope to market," said Arnaud Malvache, President and CTO of Unistellar, located in Marseille. "Our team also demonstrated the prototype at several star parties in Europe and the USA, and these efforts paid off beyond our wildest expectations, with a landslide of backers."
The campaign went live at 7 a.m. Pacific time on Oct. 25, when the company began taking orders for eVscopes at early-bird prices. In just a few minutes, the first 150 telescopes were gone—which put Unistellar at its fundraising goal, making this one of the most successful Kickstarter campaigns ever, and likely the biggest success for an amateur astronomy project on Kickstarter.
Backers continue to pour in. At last check, Unistellar had raised over $1.6 million with more than 1,200 eVscopes pledged.
Each eVscope includes light-accumulating Enhanced Vision Technology that gives the device the light-gathering power of telescopes ten times larger in diameter. For most viewers, this means unprecedented access to colorful nebulae, galaxies millions of light years away, and faraway planets—objects that are far too faint to view through backyard conventional telescopes. And thanks to built-in sensors, GPS, and an internal map of millions of stars, the eVscope can pinpoint and identify any object in the sky, making astronomy easy as well as informative.
The campaign's success also marks a huge victory for citizen science. Thanks to Unistellar's partnership with the SETI Institute, eVscope users can join astronomical viewing campaigns led by scientists. These campaigns are expected to produce unprecedented amounts of data generated by a global array of eVscopes. This information will be stored in a database at the SETI Institute, where it will be available to scientists all over the world.
"Our successful crowdfunding campaign confirms the desire of amateur astronomers and space fans to enjoy the night sky while they contribute to scientific investigations and generate new astronomical data. This is step one toward the creation of an active network of citizen-science astronomers who will monitor the sky 24/7 from almost everywhere on our planet," said Franck Marchis, Chief Scientific Officer at Unistellar and Senior Astronomer at the SETI Institute.
The Unistellar team organized several demos in summer 2017 to showcase the eVscope's capabilities. Starting in July, the Eastbay Astronomical Society (Oakland, CA) got the chance to incorporate the eVscope prototype and the developer team's expertise into its public outreach events at the Chabot Space & Science Center. The innovative eVscope was seamlessly integrated into EAS activities, together with more traditional and much larger-aperture telescopes.
"The vivid color views in the eVscope were immediate crowd magnets and the Unistellar team had people lining up to enjoy the clusters and nebulae shown in the electronic eyepiece of this new device," said Gert Gottschalk, board member of the EAS and amateur astronomer. "The Unistellar team and its telescope immediately became integral to outreach activity at EAS."
"We're overwhelmed by the success of our campaign and grateful for the many emails, including comments and ideas from our supporters," added Laurent Marfisi, CEO of Unistellar. "These early adopters will help us make an even-better product, a uniquely powerful, easy-to-use device that gives them back the sense of awe and wonder that the night sky has engendered in humans since our species first appeared on this planet."
The Kickstarter campaign runs until November 23 at midnight PT.
Link

Link to the Kickstarter campaign.
Images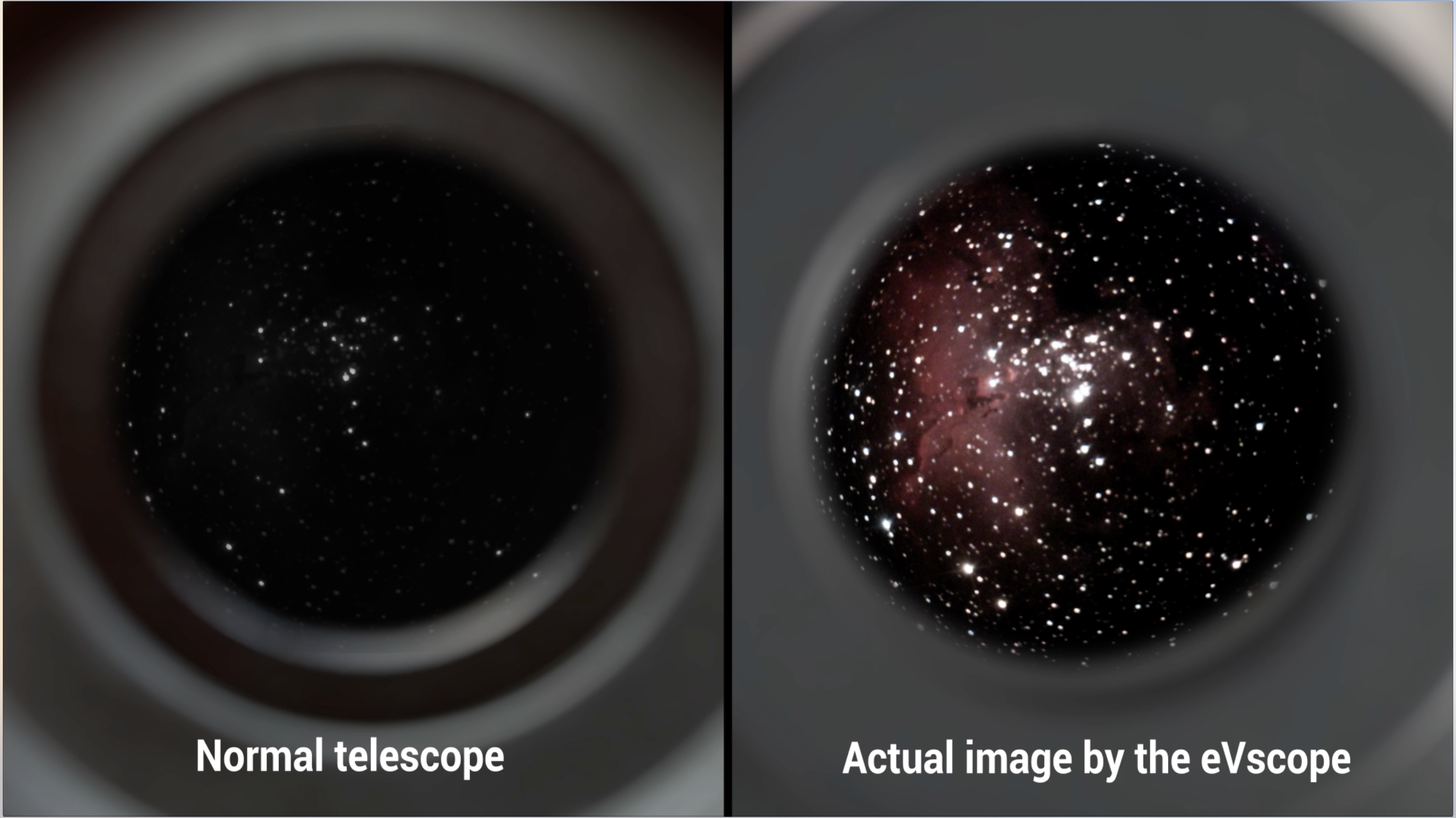 Comparison between an observation with a classical telescope and with the eVscope
Videos 
Our Kickstarter video

Leo Tramiel, amateur astronomer & co-inventor of the Commodore PET, witnessed one of our demos.

Demo at Marseille Observatory.

Enhanced vision experience
https://www.youtube.com/watch?v=Qq_VLOn8ckc
Previous press releases
SETI Institute partnership press release:
SETI Institute-Unistellar Partnership Promises to Revolutionize Amateur Astronomy
It's Official! The eVscope from Unistellar Gets Kickstarted
About Unistellar:
Unistellar is reinventing popular astronomy through the development of the Enhanced Vision Telescope™: a smart combination of optics, electronics, and proprietary image-processing technology that aims to make astronomy interactive. Unistellar is completely dedicated to its popular ambition, but its technology has already garnered attention for other applications from established institutions for like the ONERA (the French aerospace agency) and companies focused on Imaging. http://unistellaroptics.com/http://unistellaroptics.com/
Media contact :
Laurent Marfisi
CEO
Email: laurent.marfisi@unistellaroptics.com
+33 6 77 98 01 20
Franck Marchis
Chief Scientific Officer
Email : franck.marchis@unistellaroptics.com
Senior Astronomer at the SETI Institute
Email : fmarchis@seti.org
+1 510 599 0604