It all started on Sunday Morning April 22 at 7:51am PDT, when several people located in the Northern California and Reno areas reported seeing a bright fireball visible in daylight.
The American Meteor Society compiled a list of 121 visual observations on their web site, an impressive number for a full sunlight meteor. Several observers in Nevada also mentioned having heard a sonic boom, implying that the meteoroid was large enough to penetrate the lower part of Earth's atmosphere.
Bill Cooke of the Meteoroid Environments Office at NASA's Marshall Space Flight Center in Huntsville, Ala., estimates the object was about 3-4 m, weighed in at around 70 metric tons and at the time of disintegration released energy equivalent to a 4-kiloton explosion. (reported in NASA-JPL press release).
This event interested my office neighbor at the SETI Institute, Peter Jenniskens, an expert in meteor showers who also retrieved the fragments of 2008TC3 in Sudan in 2008. He pointed out that the size of the Californian meteor is very similar to 2008TC3, hence fragments should have reached the surface. Getting fresh fragments of meteoroids, called meteorites, is key for astronomers to understand the composition of those remnants of the formation of the solar system. Fresh fragments are unaltered by the Earth's weather and erosion processes, so they are pristine samples which can be used to detect organic materials for instance.
On Tuesday several scientists from the Bay Area met at NASA Ames to discuss a strategy for a search campaign. An examination  of the radar data map by Marc Fries revealed that dozens of fragments from 100g to 1 kg range  may have reached the surface in an area NW of Placerville, in the Gold country.
Yesterday, Tuesday April 24, Peter Jenniskens and Mike Koop drove to the site of the radar map. The possible presence of  fragments was already spreading quickly and an email was posted on the meteorite-list mailing list announcing that Robert Ward found the first piece at 11am.
http://www.mail-archive.com/meteorite-list@meteoritecentral.com/msg105408.html
[meteorite-list] New California meteorite found!
Sean T. Murray
Tue, 24 Apr 2012 13:33:22 -0700
It is an honor to announce that, at 11:00 am local, Robert Ward was the
first to recover a stone from the April 22, 2012, California fireball —
which was evidently generated by a large, carbonaceous CM mass. Robert is
now responsible for the initial recovery of two-out-of-three-ever California
witnessed falls, including Red Canyon Lake.
A second fragment was discovered shortly later by Peter Jenniskens himself. It appears to be a CM Chondrite meteorite, one of the rarer types of meteorites, rich in a mix of complex organic compounds like amino-acids. They graciously sent me this picture taken at the time of the discovery of the, now called,  Sutter's Mill meteorite.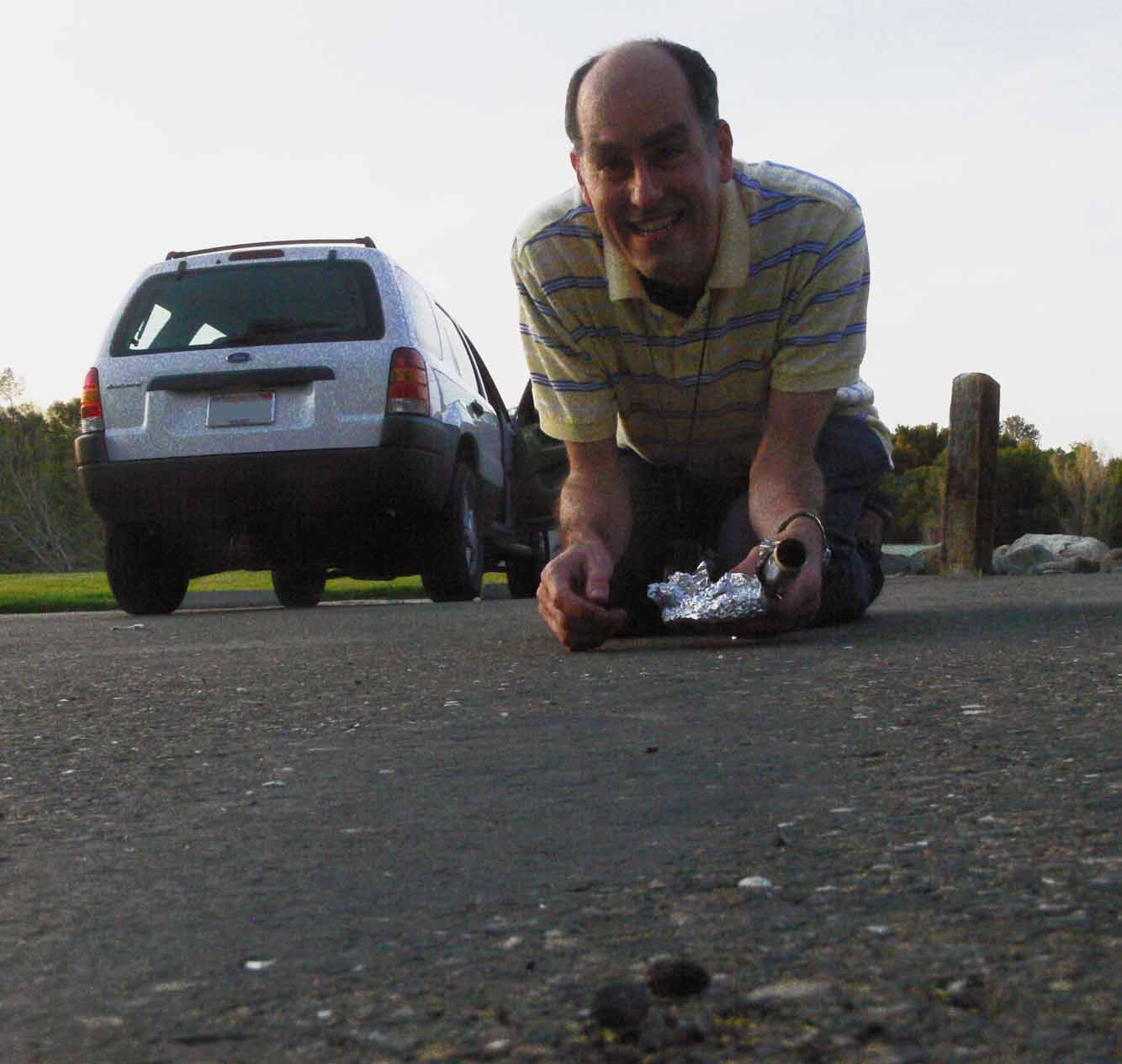 Unfortunately a storm is reaching California and the rain may alter the remaining  fragments. If you are not too far and feel like looking for meteorites, you should definitely check out the area for meteorites. They are easily discernible thanks to their dark color.
Another plea for help, if you have access to security camera footage taken on Sunday morning, it may be useful to check them to see if the fireball was visible. Astronomers could use them to pin down the site of the fall, maximizing the hunt for fragments.
Clear skies & good hunting,
Franck M.
Added at 11am:
From Marc Fries: A third stone was found by a gent from Sacramento.  He went up there and walked around on the roads, and found it on a gravel road. http://briencook.com/lotus/
Edits at 1pm: minor corrections and addition of the meteorite name