Today, a team of astronomers from Europe led by group of the Observatoire de Geneve announced the discovery of SEVEN exoplanets around a southern hemisphere star called HD 10180.  Even if the name of the star is far from being memorable, our community will remember this major leap in the quest of exoplanets.
What do we know about the host star?
With a declination of -60 degrees (see Vizier), HD10180 is definitely visible in the southern hemisphere. The star is 127 light-years away in the southern constellation of Hydrus (the Male Water Snake)and has a visual magnitude of 7.3,  which makes it barely visible with naked eye. It is quite similar to our sun in temperature and size, but also in age (estimated to 4.3 Gyrs).
The embedded video below (credit: ESO)  is zoom sequence which  starts with a wide-field view of the southern sky, including the Magellanic Clouds. It gradually closes in on the apparently unremarkable star HD 10180 in the little-known constellation of Hydrus.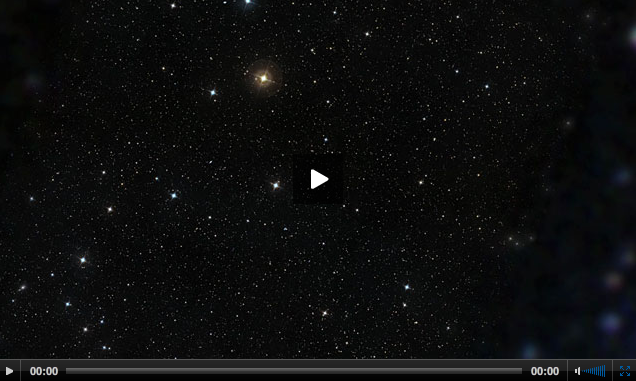 What about the exoplanets?
Using HARPS spectrograph on the 3.6m telescope at ESO-La Silla, the team recorded 190 observations of this star. Over 6 years of observations, they have been able to measure the wobbling of the star due to the motion of the exoplanets and detected them with an accuracy of 1 m/s (slower than the speed of a walker). The five strongest signals (6.5 m/s of dispersion) correspond to the presence of exoplanets with Neptune-like masses orbiting the star with periods ranging from about 6 to 600 days. These planets are located between 0.06 and 1.4 times the Earth–Sun distance  (Astronomical Unit, or AU) from their central star. For comparison Mercury orbits around the sun at 0.39 AU  and the Mars at 1.52 AU.
As mentioned in their submitted article, they improved their model by adding in their analysis one Saturn-mass exoplanet orbiting in 2,200 days so at 3.4 AU and one small terrestrial planet (1.4 Earth mass) orbiting at 0.02 AU from its star.
To illustrate their analysis I am attaching below a figure from their research article (Lovis et al., A&A, 2010) which shows the radial velocity time series and the plot performed using a model of 7 planets. The bottom figure indicates the low residuals with a global rms of 1.33 m/s.
On the existence of multiple planetary systems
We know today 15 planetary systems with at least 3 exoplanets. HD 10180 is somehow a unique system.  Its five Neptune-like planets lie within a distance equivalent to the orbit of Mars, so it is more populated than our Solar System, most likely a multi-body migration process is needed to explain this observation . The system has probably no gas giant like Jupiter since none was detected at less than 10 AU from the star. Finally, the presence of this hot and rocky exoplanet at proximity to its star represents a new class of exoplanets that seems to be common (see the figure below)
Astronomers from the California and Carnegie Planet Search team announced in November 2007 the discovery of a fifth planet around the nearby star 55 Cancri. Almost three years later, astronomers are now able to detect planetary systems with 7 exoplanets. This progress is definitely due the improve sensitivity of our instruments but also because we have a longer time baseline to detect exoplanets far from their star. For instance, HD 10180 g is orbiting around HD10180 in ~600 days so multiple years of surveys, like this one, are needed to detect such  a long trend.
The artistic picture below show the 7-planet system of HD10180 seen from the third planet in the system ( a Neptune-like planet). Two exoplanets, a Neptune-like and an Earth-like, are shown transiting their star, 3 other Neptune-like planets and the Saturn-like planets are drawn in the background. Like our solar system, these exoplanets describe coplanar and almost circular orbits around their star.
The article contains as well an interesting discussion on a possible Extrasolar Titius-Bode-like law and the metallicity of the stars which are known to host exoplanets.
This discovery is also a good news for space telescopes like Corot or Kepler which are looking for terrestrial exoplanets. The existence of H10180b (the hot rocky world) may suggest that there are a lot of these worlds in our galaxy.
I heard that Kepler is preparing an announcement for this week on Thursday, I am betting that they indeed already found one of these worlds :-).
more soon!
F.
PS: I am now on Twitter. @AllPlanets