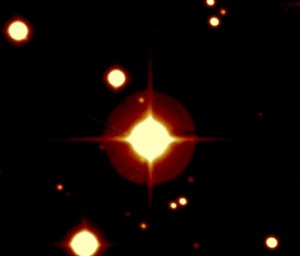 Dear readers,
Yesterday I wrote a post and an update about the possible discovery of a super-Earth exo-planet by COROT mission.  I completely forgot to give you information about the star around which this exoplanet is orbiting.

Until the article is published we will not know the celestial coordinates but D. Rouan told me that it is a young (~1.2 Gyr) and active K0V star, located at 140 parsec from our Sun. A parsec (pc) is a weird unit of length which corresponds 31 trillion of km or 3.26 light-years (lyr). To give you an idea of the distance, the light coming from this star is taking 460 years to reach us which is also 30 million times the distance between the Sun and Earth.
So basically, with the current propulsion system that we use for our spacecraft it will take us centuries to visit this exo-planet. That's why NASA and ESA space agencies are developing mission concepts like DARWIN or TPF to study these exo-planets from the close environment of our planet.
Greeting from Hawaii,
F.