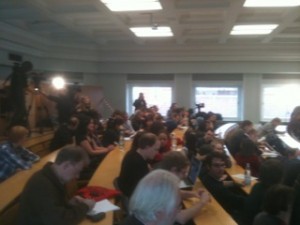 The Great Debate is over. In the next days you will be able to see it here. Although I had plenty of urgent things to do, I could not resist to follow the live blog by Marcel Pawlowski and Andreas Küpper, who kept reporting and answering questions for the whole duration of the debate. It was an interesting experience. From what I can judge, the presentation by Simon White was very relaxed, and did not touch upon possible alternative scenarios. After a general introduction on Dark Matter, White went through all evidences, including the famous Bullet Cluster. One of the points he made was that neutron and neutrino were predicted/invoked well before they were discovered. In particular, the neutrino was postulated in 1930, but confirmed only in 1956. Something similar might be happening for dark matter particles. DM was postulated by F. Zwicky in 1933, but the particle has not been found. At least not yet. For some time there were hopes that the neutrino could be the one, but with the mass limits set for it, there is not much neutrinos can do for DM.
On the other hand, Pavel Kroupa started in a very bold way. His first slide carried an explicit title: "LCDM is Ruled Out" (LCDM stays for Lambda-Cold Dark Matter, i.e. the most favored cosmological model including cold dark matter and dark energy). The bloggers report that when the slide appeared there was a general laughter in the fully packed seminar room.
The main point made by Pavel is that LCDM does not agree with what we see in the so called local volume. In other words, the predictions of LCDM cosmologies on scales comparable to our neighborhoods (say, less than a million light years), are completely wrong when compared to what we actually see. And this, in Pavel's opinion, is sufficient to rule out LCDM. Unless, he adds, we live within a very special bubble (which would bring us back to a sort of pre-Copernican age).
While he mentions MOND and MOG as alternative theories, he also touches upon the sociological aspects of the whole matter, and how difficult it is to go against the mainstream (in this respect I like to mention that a few days ago Pavel had written to me asking about the status of our very old stars paper, which you might remember got brutally but superficially rejected by A&A).
During the final debate, Simon White admits that LCDM has some problems, but he also points out that the small scale structure is not a problem at all, as this is complicated by other issues, which cannot be explained by a model that reproduces the large scales. Pavel Kroupa maintains that this is a catastrophe for LCDM (one of the two must probably be wrong, you'd say).
Watching the blog it was very interesting to see how different people reacted (online) to the various statements. Interestingly, a live poll launched by the bloggers on MOND concludes that for 72% of the voters this is a nice theory that needs to be improved. Only 12% thinks it does not make any sense to work on MOND, since we already have LCDM. I was under the impression that the blog audience was biased (probably anti-mainstream or non-aligned people attended the blog more frequently than LCDM-people, who considered it simply not worth).
Certainly an interesting and stimulating afternoon. However, there is a sentence that keept knocking on my mind the whole afternoon: "We do not understand nature. We measure it". So says my brilliant friend Roberto Siagri. And, from time to time, I think he is right (more than ever when I ponder about astronomy). Think of the simple first law of motion: Every body remains in a state of rest or uniform motion unless it is acted upon by an external unbalanced force. We call it a law, a principle. From this (and other principles) we deduce everything else. The fact that the results are in agreement with what we see lead us to conclude that we understood how nature works. But the principles masquerade the very simple fact that we do not know, for instance, why every body remains in a state of rest or uniform motion […].
Or, for that matter, why two bodies attract each other with a force which is proportional to the product of the masses and bla bla bla. Sure, if you go along this path you will certainly end up asking the famous question why there is something rather than nothing. And, in turn, this will probably lead you/me/us nowhere. However, the fact that we do not know what pulls two bodies together, still remains. And somehow we have to cope with that.
This probably requires some healthy fraction of schizophrenia 😉