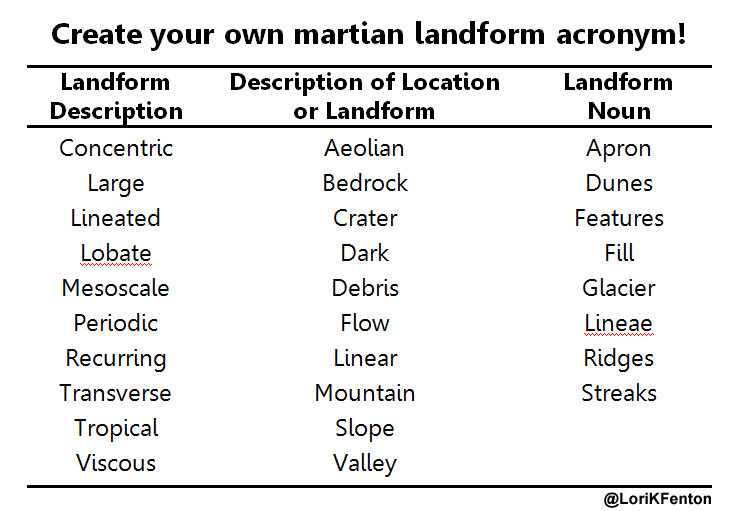 Today I've got something different. Today NASA announced the discovery of hydrated salts in some dark slope features that form during the spring on Mars. These "recurring slope lineae", or RSLs, were discovered a few years back, and they form on steep slopes every spring in a few places on Mars. There's been a big debate over whether these things are formed by flowing water (which would be big news: flowing water on Mars today, right now, where we can witness and study it, not just billions of years ago in the distant past – these RSLs could be an environment where life could exist) or whether they're just boring dry flows of sand or dust that only turn dark because for some weird reason the bright dust gets kicked off the surface (things like that also happen on Mars in other places).
But now they've found hydrated salts, which only form in the presence of water. So that means these RSLs are associated with water. They're not just dry sandy avalanches. So now they're places we need to pay more attention to, partly because we might find life there (yay!) and also because we need to be careful not to kill it or infect it with our biological cooties (boo!).
So in honor of this new discovery, I'm giving you a list of some of the words we've used to describe landforms on Mars. It's true, we planetary scientists have a penchant for acronyms and names that don't roll off the tongue. It may be partly because we lack imagination, but it's also partly to cover ourselves (CYA, there's another 3 letter acronym), so that we don't pick a name that makes us assume something about what process forms that feature. Thus we have the mighty "recurring slope lineae" instead of something more catchy like "springtime slush", because what if that name stuck and they turned out to be something much less exciting? Then we'd have to call them by the wrong name, and it would be the Pluto demotion fiasco all over again. Nobody wants that.
With some luck these RSLs will be renamed something more catchy. Most likely the IAU (another acronym!) will give them names relating to water features on Earth, like naming them after famous springs or fountains or something. That won't happen for years to come. In the meantime, you can make your very own 3 letter acronym from the list above and play at martian geology. Have fun!