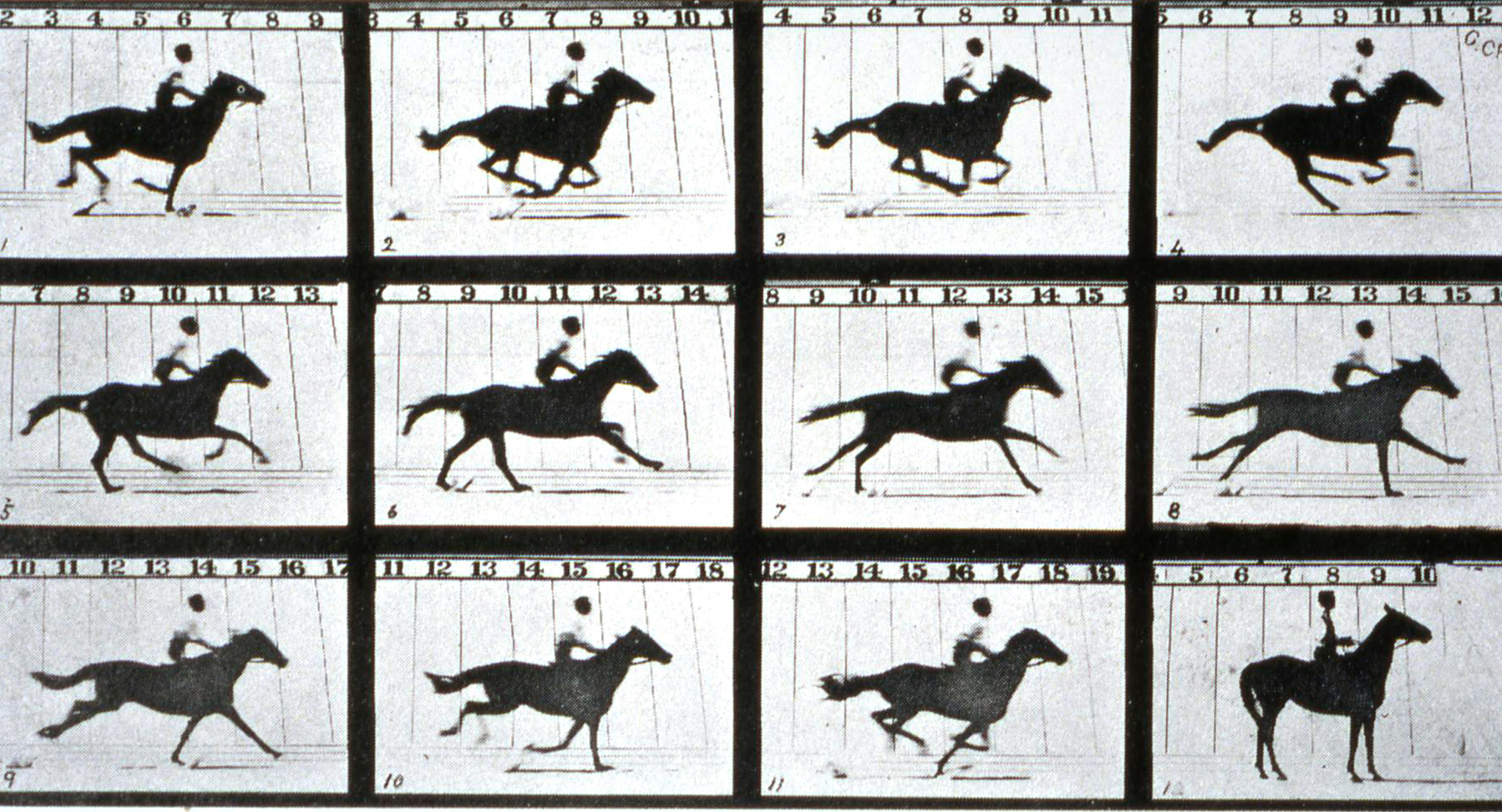 The name Eadweard James Muybridge does not roll off the tongue, but we have all seen his images. In the earliest days of photography, he pioneered the use of the newly-invented camera to study animals and people in motion. In his classic studies of horses, for example, he demonstrated for the first time that there exists a moment in the cadence of a trotting horse when it is airborn–all four feet are off the ground. The technical setup required to obtain one of these sequences was substantial. Each image was taken by a different camera, which was triggered by a separate thread as the horse passed by.
Needless to say, the cameras of the 19th century lacked "burst mode", or even auto-advance, or even film. These are the features that have made it trivial for 20th- and 21st-century photographers to capture a similar sequence of images. Today, I can just set my iPhone on video mode and let it do all the work.
However, one truth about action photography has never changed–you need to follow the motion. Otherwise, you will get nothing but a blur. Save your tripod for subjects that are willing to sit still. Had Muybridge attempted the same photo sequence without all those separate triggers, his image would have looked something more like this. All background, no horse!

So it is, strangely enough, when trying to take pictures of distant moons. Like fidgety children, moons are unwilling to sit still for the camera. This is the challenge we dealt with in finding a tiny moon of Neptune whose discovery was announced today. It has a special distinction–it never sits still long enough to have its picture taken. Neptune is a big planet with a strong gravity field, and moons whip around it very fast. This one circles the entire planet, following a path of over 600,000 km, in less than a day.
The moon is also very small and dark. We estimate that it is no more than 20 km across and as dark as if it were paved with dirty asphalt. Naturally, taking its picture requires long exposures. But there's the rub. If you expose it for too long, the moon vanishes in a blur, much like the disappearing racehorse above.
The images in which we found tiny "S/2004 N 1" (don't worry, it will get a better name soon!) were taken by the Hubble Space Telescope between 2004 and 2009. In fact, these images have been freely available to anyone in the world, some for almost a decade. However, what they have in common is that they were all taken by keeping the camera fixed on Neptune. In the past, we have always discovered moons just by stacking up images like this, or perhaps animating them into a movie, and seeing what turns up. This actually works fine for Pluto, a dwarf planet with a weak gravity field. The small moons of Pluto, including the recently-named Kerberos and Styx, take weeks to circle Pluto, so summing up a few hours of data works just fine. Not so at Neptune.
Once the images are on the ground, it is too late to track the motion of a tiny moon. Besides, if we don't know where a moon is, how could we know how to track it? The solution we found builds on the fact that moons are a bit more predictable than racehorses and fidgety children. We might not know where the moons are, but we do know how they move. As a result, we were able to write software to do all the motion-tracking, by letting a computer shift and add up the images after the fact. The procedure I devised predicts where any given moon ought to move from one image to the next, and then combines the images with a "twist" that compensates for the expected motion. I developed this procedure (and I am certainly not the first) to study some peculiar arcs in the rings of Neptune. However, I soon realized it could be useful for moons as well. It was only when I expanded my analysis out to regions well beyond Neptune's ring system that an extra little dot turned up, over and over again. In less than a week, we went from our first detection to ten.
The discovery of one little moon might not be Earth-shaking, but somehow it is has to fit into the big picture of how the Neptune system formed. Astronomers had long noted that the moons of Neptune get progressively smaller as you go inward. However, this little rock, orbiting between 200-km Larissa and 400-km Proteus, throws a bit of a wrench into that simple story.
What we do know is that Triton, a very large moon, got captured into orbit around Neptune eons ago. Triton's distinction is that it orbits backwards, circling the planet opposite to the planet's rotation and opposite to the direction of the other moons. We can be pretty sure that when Triton arrived, it disrupted whatever system of moons was originally circling Neptune. The moons that we see today somehow re-formed after that event. With the discovery of S/2004 N 1, the key points of this story have not changed, but we now have one more piece of the puzzle to fit into place.